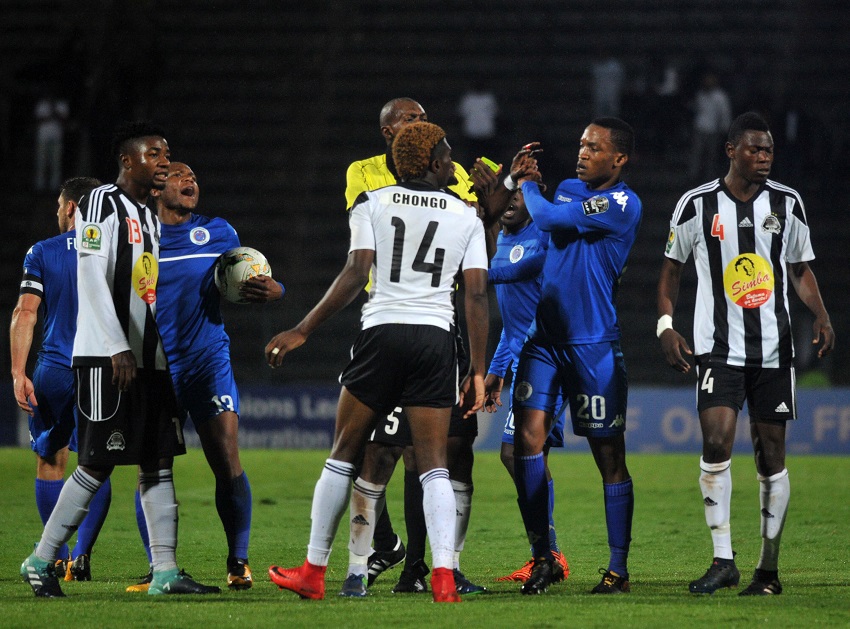 Zambian Footballer Kabaso Chongo Attacked Alongside His Team TP Mazembe
TP Mazembe players attacked in Mbuji Mayi, central DR Congo, with Zambian footballer sustaining head injuries.
The attack was initiated by the fans after TP Mazembe won the match against their, which led fans to attacking the players, TP Mazembe reported "TPM players injured after leaving Kashala Stadium, CHONGO in the head, KINZUMBI on the right arm and TSHIBANGU in the back. Had it not been for the intervention of the police who loaded the delegat in one truck, we would have counted dead people!
The Ravens have already taken over the plane".
#VL1 #SangabTPM 3 joueurs du TPM blessés au sortir du Stade Kashala, CHONGO à la tête, KINZUMBI au bras droit et TSHIBANGU au dos. N'eût été l'intervention de la police qui a embarqué tte la délégat° dans 1 camion, on aurait compter des morts! Les Corbeaux ont déjà repris l'avion pic.twitter.com/GkVdZwOxmm

— TP Mazembe (@TPMazembe) April 28, 2021
#RDC: Joueurs du @TPMazembe agressés à Mbuji Mayi au Stade kashala Bonzola par les supporteurs de Sanga Balende après avoir été battu 0_1. Tabassés, bus caillassés, "ils ont tous été acheminés à l'aéroport par un camion des FARDC dans des conditions incroyables.", dit proche pic.twitter.com/HxALceYp49

— Stanis Bujakera Tshiamala (@StanysBujakera) April 28, 2021
Mr Chongo told the BBC he was in pain.
"I am still in a lot of pain. I can't say when exactly I will be back in training but I will need a few days to recover," he said.