News
Young Green Buffaloes Win 'FAZ Lusaka Province Division 1' Championship.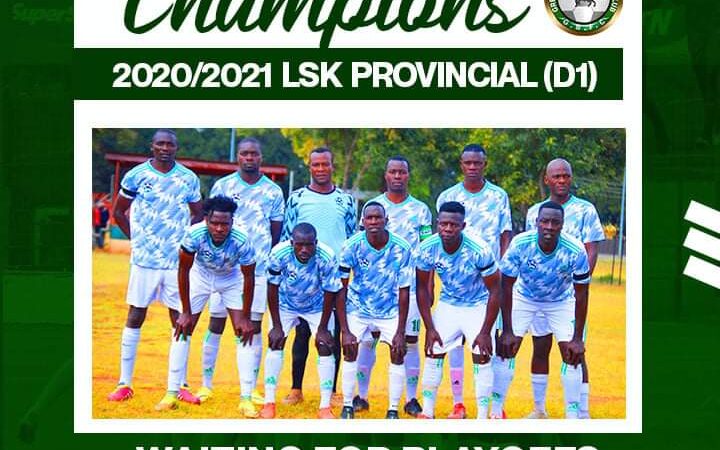 Young Green Buffaloes Win 'FAZ Lusaka Province Division 1' Championship.
FAZ Lusaka Province Division 1 ended in favor of Young Green Buffaloes Football Club winning the 2020/2021 season champions. This comes after a 2-1 win over Irwin Rangers in a week 8 rescheduled match played on Wednesday afternoon.
The Army-sponsored side uplifted the National League with 69 points as they remain with 1 game to finish the campaign, winning 20, drawing 9, and losing 4. They are also currently the leading team in terms of goals as they have scored a total of 48 goals and allowed only 27.
The closest rivals are Lusaka City Council who have 62 points from their 32 matches played after recording a 3-0 bashing over Misisi Youth Academy in their fixture.
On the other side of the coin, 2 teams in Kabwata Dynamos and Chongwe United have been confirmed relegated to the Provincial division 2.
This follows Chongwe United's 3-2 loss to Young Napsa Stars and Kabwata Dynamos' 1-0 win over Paramilitary. Kabwata Dynamos did all they can by getting 3 points, but this could not help as Sable Bulls picked up a point against Young Zanaco after a 1 all draw. Kabwata were relying on Sable Bulls to drop points to have hopes for survival. Sadly, they can only go up to 33 points, given that they win all their remaining matches, the same situation for their colleagues in Chongwe United.
For now, it's not yet clear as to how many teams will be relegated, but for Chongwe United and Kabwata Dynamos, it's a game over.
In other matches, Chainda Bombers bounced back to winning ways as they baptized Riflemen by 4 goals to 1. Obby Habenzu was the main man as he netted a brace, with Besum Banda and Isaac Zulu joining him in scoring the other 2 goals.
At Show Grounds, Vector recorded a 2-1 triumph over Happy Hearts whereas Athletico Lusaka settled for a goalless draw with Shamuel FC.
Shamuel went into the match without head coach Fewdays Musonda whose contract was not renewed for failure to take the team to the National League Playoffs.