News
Martha Tembo and Irene Lungu Shine in UEFA Women's Champions League Victory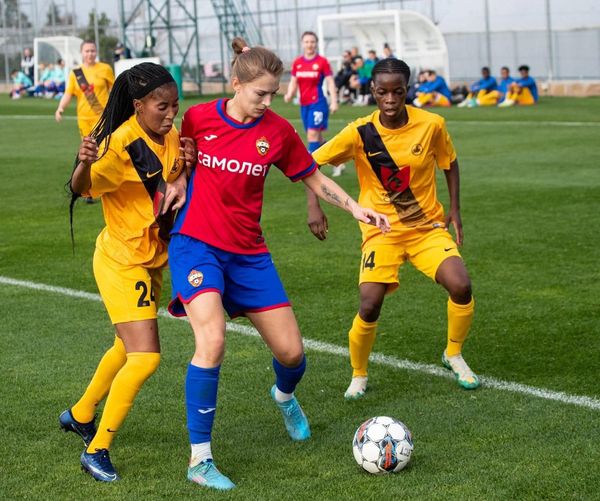 Zambian Duo Martha Tembo and Irene Lungu Shine in UEFA Women's Champions League Victory
In a thrilling UEFA Women's Champions League encounter earlier today, the Zambian duo of Martha Tembo and Irene Lungu took center stage, delivering an impressive performance for their team, BIIK Kazygurt. Both players showcased their talent by playing the full 90 minutes of the game, and Irene Lungu, in particular, stole the spotlight with a remarkable brace.
The Match Highlights:
BIIK Kazygurt faced off against Cliftonville LFC, and the Zambian duo played pivotal roles in their team's success. Midfielder Irene Lungu's exceptional skills and goal-scoring prowess were on full display as she netted not one but two crucial goals during the match.
Despite a spirited effort from Cliftonville LFC, BIIK Kazygurt emerged victorious with a comfortable 4-2 win. The victory underlines the team's strength and quality in the UEFA Women's Champions League.
Irene Lungu's Heroics:
Irene Lungu's brace not only secured the win for her team but also showcased her ability to perform on the grand stage of European women's football. Her contribution highlights her importance to BIIK Kazygurt's midfield and goal-scoring opportunities.
Martha Tembo's Solid Performance:
Martha Tembo's presence on the field was equally vital, as she played a full 90 minutes and contributed to her team's overall performance. Her defensive skills and composure added stability to the team's lineup.
The Zambian duo's excellent showing in the UEFA Women's Champions League is a source of pride for Zambia and women's football in Africa. Their achievements on the European stage underscore the growing influence of African players in international competitions.
As the UEFA Women's Champions League unfolds, fans eagerly await more remarkable performances from Martha Tembo, Irene Lungu, and their teammates at BIIK Kazygurt. Their success serves as an inspiration to aspiring footballers in Zambia and beyond.