News
Manchester City Clinches UEFA Super Cup Victory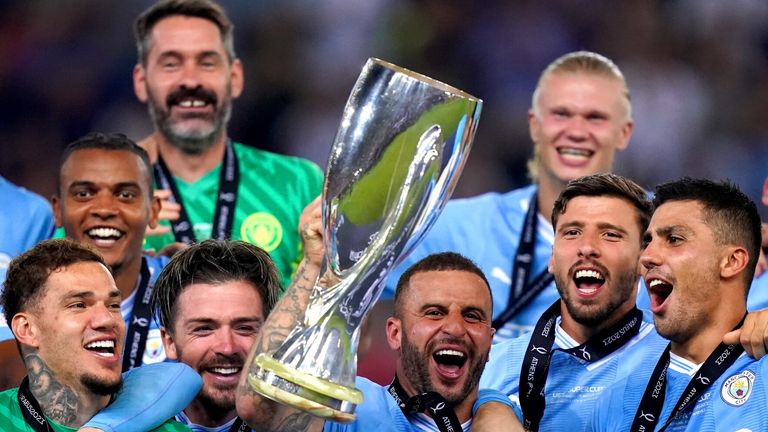 Manchester City Clinches UEFA Super Cup Victory   
Manchester City emerged victorious in the UEFA Super Cup, securing another trophy under the leadership of their manager, Pep Guardiola. The win marked their 15th major trophy under Guardiola's guidance, showcasing the club's consistent success on various fronts.
Here is a breakdown of their achievements under Guardiola:
 Premier League 
🏆🏆🏆🏆🏆
 Carabao Cup: 
🏆🏆🏆🏆
 Community Shield: 
🏆🏆🏆
FA Cup: 
🏆🏆
 Champions League: 
🏆✨
UEFA Super Cup:
🏆✨
Manchester City's triumph in the UEFA Super Cup further solidifies their status as a dominant force in European football. Their impressive collection of titles showcases their consistency and ability to perform at the highest level in both domestic and international competitions.
Under Guardiola's guidance, Manchester City has not only secured trophies but also played an attractive and effective brand of football that has left an indelible mark on the sport. The club's supporters and football enthusiasts alike can celebrate this accomplishment and look forward to what the future holds for Manchester City under Guardiola's leadership.