News
Kansanshi Dynamos Beats Kabwe Warriors with a 2-0 Victory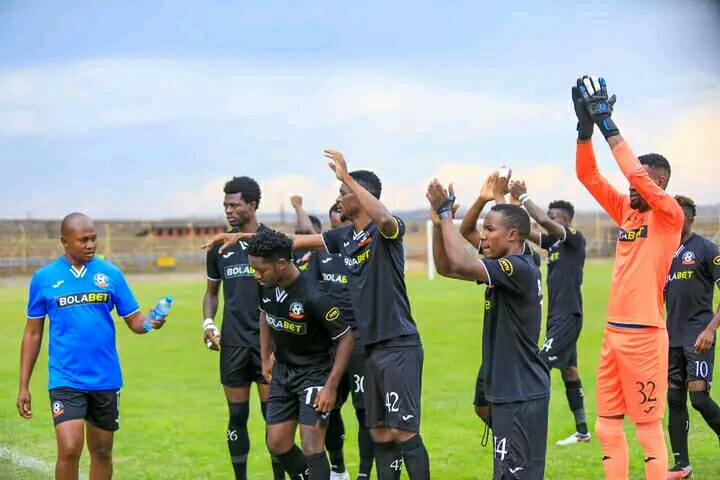 Kansanshi Dynamos Beats Kabwe Warriors with a 2-0 Victory
In a thrilling clash of skill and determination, Kansanshi Dynamos emerged victorious against Kabwe Warriors with a commanding 2-0 win in their week 11 showdown of the MTN Super League.
The Fearless Mabanga Boys, under the interim guidance of acting head coach Donwell Yobe, showcased their prowess on the field, breaking a dry spell that had persisted since their last triumph in week four.
The match ignited with an early breakthrough in the 8th minute, as Jimmy Mukeya displayed his goal-scoring prowess with a stunning header, capitalizing on a precise cross from Bruce Musakanya to give KDFC an early lead.
Despite a close call in the 16th minute, when Warriors' Ocean Mushure's free-kick narrowly missed the target, Kansanshi Dynamos maintained their focus. Chifundo Mphasi of Warriors attempted a shot in the 44th minute, but it went wide of the mark.
As the first half approached its conclusion, the game witnessed a temporary halt after a foul on Rodgers Lukonde, leading to the addition of 7 minutes of injury time by the fourth official.
During injury time, the visitors pressed for an equalizer, but a well-executed pass from Chifundo Mphasi to Timothy Sakala was thwarted by a confident save from KDFC's goalkeeper, Philip Sakauta.
The second half brought more action, with a superb pass from Rodgers Lukonde setting up Marvin Jere in the 57th minute, only for Jere to be caught offside.
In the 64th minute, an excellent cross from Yanganile Tembo found Mukeya, whose beautiful header was denied by a crucial save from Ian Kabamba, the Warriors' goalkeeper.
As the match neared its conclusion, Kansanshi faced a moment of tension as the visitors pushed for an equalizer. However, substitute Justine Kang'ombe alleviated the pressure with a spectacular goal, courtesy of a Djo Ntambwe pass, sealing a 2-0 victory for KDFC.
This impressive win propels Kansanshi Dynamos to 12 points in the league, marking a significant milestone in their season. In a post-match interview, Acting Head Coach Donwell Yobe commended the team's resilience and determination, emphasizing the importance of the hard-fought victory in their journey through the MTN Super League.