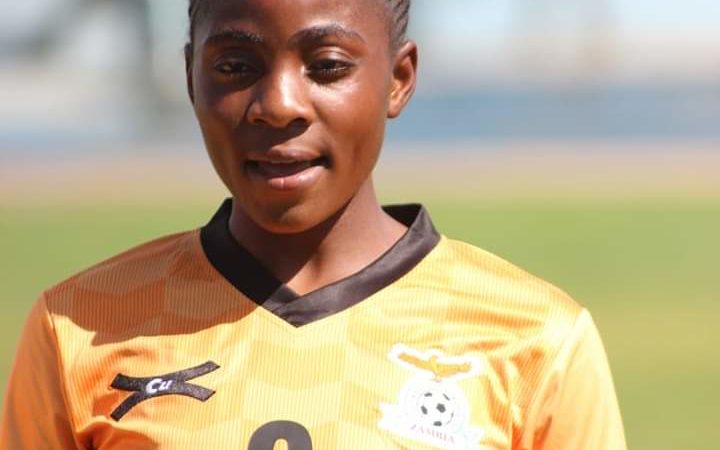 HELLEN MUBANGA: The Legendary Record Breaker
An inevitable change in Zambia's sports history struck when on mighty lady, Hellen Mubanga, certainly established the nation's notable qualification to the Tokyo 2020 Olympic Games by defeating Cameroon 2-1 at Nkoloma Stadium. This earned Hellen an admirable status.
Cameroon's dream of winning the Tokyo Olympics was shattered by Mubanga who boldly shot and sealed Zambia's qualification via a 2-1 win on the day and 4-4 grand total result. The tournament initiated the away goals rule which sealed the Copper Queens their ticket to Tokyo after being knocked out 3-2 in Yaoundé. Mubanga was part of the 2012 Zone VI games hosted and won by Zambia.
 She was part of the 2014 African Women Championship (AWCON) where she contributed three goals in the qualifiers including the strike that confirmed the team's qualification against Zimbabwe.
 Mubanga also left her legacy at the 2019 Cosafa Women's championship where she emerged Player of the Tournament in due course earning a move to Spain where she is on the books of CFF Zaragoza.
 Having female footballers who maintain a feminine frontage is very rare, Mubanga, however is one of the rare footballers who do otherwise. This has actually commendably earned her another notable feature that has raised her fame.
 To help in recognition of this upcoming legend here is her biography;  
Name: Hellen Mubanga
D.O.B: 23.05.1995
Club: CFF Zaragoza (Spain)
Favourite Player: Messi
Favourite Club: Barcelona
Inspiration: Messi