News
Green Eagles Gearing Up for Must-Win Showdown Against Trident FC in MTN Super League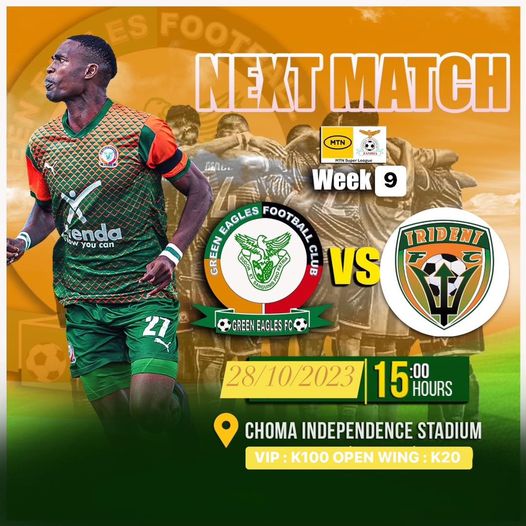 Green Eagles Gearing Up for Must-Win Showdown Against Trident FC in MTN Super League
Green Eagles coach Alex Namazaba is well aware that the upcoming game against Trident FC holds immense significance. The two teams are set to clash in Choma for their scheduled MTN Super League match, and Namazaba understands that nothing less than a victory will suffice.
This game marks the third match since Zambia National Service (ZNS) Commander Lt Gen Maliti Solochi issued an ultimatum to Namazaba, giving him three games to improve the team's performance or face potential dismissal. After a disappointing 3-2 defeat to ZESCO in week five, Lt Gen Maliti Solochi had voiced his concerns, emphasizing the need for better results and reminding Namazaba that the team had been provided with ample resources and support.
Since that ultimatum, Green Eagles managed to secure a victory against Forest Rangers but faltered with a loss to Green Buffaloes in the previous week. Another win against Trident FC could potentially ease the mounting pressure on Coach Namazaba and satisfy the General's expectations.
Green Eagles Football Club has faced a challenging start to the season, currently occupying the fifth position from the bottom of the league table. Their recent record shows two wins, two draws, and four losses in their last eight matches.
On the other side, Trident FC, led by newly appointed coach Albert Kachinga, is also grappling with their own set of challenges. The team finds themselves second from the bottom of the league with only four points and no wins to their name so far.
A glimmer of hope for Coach Kachinga is the return of Trident FC's attacking midfielder, David Sakala, who had been sidelined with a calf injury for three weeks. Sakala's return to full training is a positive development, and he is expected to be part of the squad taking on Green Eagles FC in the upcoming fixture.
The clash between Green Eagles and Trident FC promises to be a crucial moment for both teams as they strive to turn their respective seasons around and secure better positions in the MTN Super League.