News
Copper Queens Stuns Germany with a 3-2 Victory in International Women's Friendly
Zambia Stuns Germany with a 3-2 Victory in International Women's Friendly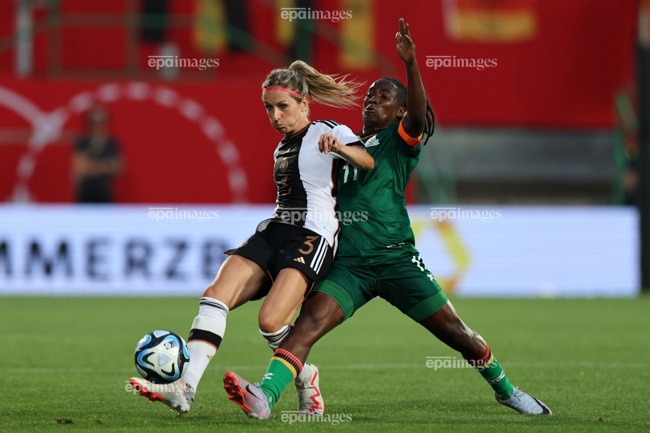 In a thrilling international women's friendly match held at Sportpark Ronhof Thomas Sommer, the Zambian women's national football team, known as the Copper Queens, pulled off a remarkable upset by defeating Germany 3-2.
The match started with both teams displaying their skills and tactics, with neither side managing to break the deadlock in the opening stages. Germany had the majority of possession and created several scoring opportunities, but Zambia's defense, led by goalkeeper Catherine Musonda, stood firm.
In the 48th minute, Barbara Banda of Zambia unleashed a fierce shot that found the back of the net, giving her team a surprising 1-0 lead. The German side intensified their efforts, attempting to level the score, but Zambia's defense held strong.
Zambia extended their lead in the 54th minute through a fantastic finish by Rachael Kundananji, making it 2-0 in favor of the Copper Queens. Germany continued to press forward, but their attempts were denied by the woodwork and the exceptional goalkeeping of Catherine Musonda.
With only nine minutes left on the clock, Germany managed to pull one back through Lea Schuller, igniting hope for a late comeback. The German team pushed forward relentlessly, and their efforts paid off in the final moments of the match. Alexandra Popp found the back of the net in the tenth minute of additional time, equalizing the scoreline at 2-2, sending the home crowd into a frenzy.
However, Zambia was not to be denied victory. In a dramatic twist, Barbara Banda scored her second goal of the match in the dying seconds, securing a remarkable 3-2 win for the Copper Queens.
The match showcased the resilience and skill of the Zambian team, who demonstrated their ability to compete against strong opposition. For Germany, it was a disappointing result, but the match provided valuable lessons and insights for their future endeavors.
The victory for Zambia in this international women's friendly will undoubtedly boost their confidence as they continue to make strides in women's football. Both teams put on an impressive display of talent and determination, providing an enthralling match for the fans in attendance.