Music
Chipolopolo Coach Aljosa Asanovic Eager To Deliver New Dawn For Zambian Football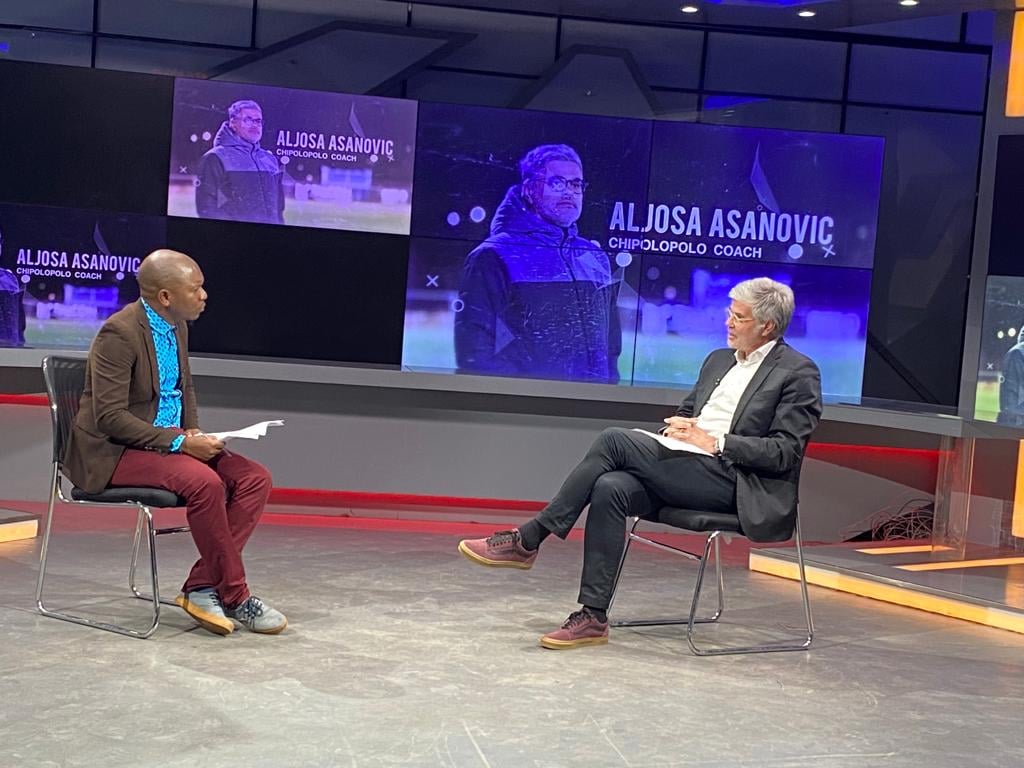 Chipolopolo Coach Aljosa Asanovic Eager To Deliver New Dawn For Zambian Football
Newly appointed Chipolopolo coach Aljosa Asanovic says he is in Zambia to be remembered as a winner and not just any other coach.
And Asanovic says he is looking to add a youthful local assistant who is willing to learn but also knows the local terrain very well.
Meanwhile Asanovic says he will maintain Brighton & Hove Albion star Enock Mwepu as the captain for the Chipolopolo.
Featuring on a ZNBC One-On-One Interview hosted by Matimba Nkonje, Asanovic says he has already lined about 30 players for the forthcoming friendly matches during the March FIFA International Window.
The Croat who has been handed a four-year deal has roped Slovak Karol Prazenica as assistant, Serb Stefan Ceravic will serve as video analyst while Hervoje Matijevic is his physical trainer.
Tonci Gabric from Croatia will train the goalkeepers with the help of a local coach. Asanovic says he was determined to transform the mindset of his players to be match winners.
"I am not coming here to be just one of the coaches who is passing here. I want to be a winner because I am a winner. I am a man who is not scared, I respect the opponent, but when I see my team on the training ground and I believe so much and see the quality of my players, I am sure I will make big things here," says the 55-year-old who starred for Valladolid, Napoli, Panathinaikos and Sydney United among other teams.
Asanovic says he was aware that Zambians were anxious to return to regular qualification for the Africa Cup of Nations after missing out on three occasions.
"I understand the people because the frustration is coming, if you will not be three years on the competition which is for the African people. Of course, it puts pressure even the players, even the coach but I love the pressure. I love to work with pressure. If everything is going easy, it will not be good. I love this kind of pressure," says the former Croatia National Team assistant coach.
Asanovic says having closely followed the on-going Africa Cup of Nations he believed that Zambia could be among the teams competing at the continent's flagship tournament.
"I saw many games of this AFCON championship and I saw there is a place for us. We must be there. This is my target; I want to go there with my boys but not to go there and just be participants. I want to go there and win AFCON," he says.
"Maybe people are thinking that Asanovic is crazy. I am not crazy; I just believe in my players so much."
He says only players that are active at their clubs will get national team call ups.
"Players must know that professional football is very hard work and discipline. Most players must play in the clubs which is most important because I will not invite guys who are not playing, who do not have clubs, I do not care about the name because I need a player who is playing every week and every game. This is the only way we are going on top again," he says.
Asanovic says he expects his players to exercise discipline on and off the pitch.
"I talk with few players; I need quality players who understand what I want. Maybe I change the system, styling of the players and I need the players who understand what I want," he says.
"You talk about names, I do not want to talk about names, you will see everything soon. I am sure my players and me will make the Zambian people proud again. I am focused about the AFCON, but also the CHAN, Cosafa because this is important for local players."
He adds: "I want to tell you again when I talk about discipline between the lines, I do not want to see big gaps anywhere."
Asanovic says he has been talking to different players he expects to be part of his team and will also undertake a tour of Europe to have face-to-face meetings.
"If you win every game, the mindset will change. Zambian players must believe that we are winners. They must want to be part of AFCON, I also want. Long time we have not been at a higher level," he says.
Asanovic says players that do not believe his path of changing the trajectory for Zambian football should be free to step aside for the ones that believe.
"The players who do not believe in these things should better tell me, coach, I want to stay home watch television, Netflix or whatever. But when we decide with 25 players, 22 or 30, we are going together like men, professional, boys with a heart and brain then we must go all the way," he says.
The Croat says he is not scared of giving promising youngsters an opportunity to play for the Chipolopolo.
"I believe so much in young players. If I saw some big talent I will not care if he is 16, 17 or 18. I will give him the chance. I may not give him chance to play AFCON maybe CHAN, Cosafa. This is what I want if you are good, come with me," he says.
He says he has been in touch with the players in Russia (Evans and Kings Kangwa), Denmark (Lubambo Musonda and Edward Chilufya), Sweden (Emmanuel Banda), England (Patson Daka and Enock Mwepu), Scotland (Fashion Sakala) and the players on the African continent like Tandi Mwape (DRC), Tanzania (Clatous Chama, Rally Bwalya, Paul Katema, Roger Kola) and a host of South Africa based players.
Asanovic says he has also been tracking players of Zambian descent in foreign leagues.
The Chipolopolo will join the qualifiers for the Ivory Coast 2023 Africa Cup of Nations in June at the group stage.
Asanovic is expected to lead the Chipolopolo during the FIFA Window next month in friendly matches.