News
Chilufya's Goal Propels Midtylland to Next Round of Europa Conference League Qualifiers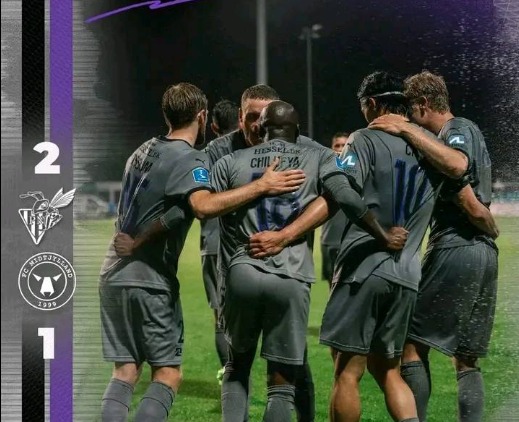 Chilufya's Goal Propels Midtylland to Next Round of Europa Conference League Qualifiers 
In a heart-pounding clash that epitomized the essence of football drama, Zambian international and Mphande Youth Soccer Academy product, Edward Chilufya, etched his name in the annals of Midtylland's history with a game-changing goal. This crucial strike propelled his team to the next round of the Europa Conference League qualifiers, following a breathtaking showdown against Niedercon.
The journey to victory was a rollercoaster ride that showcased the resilience and determination of both sides. Midtylland faced an initial setback with a 2-1 defeat, putting them in a precarious position with a 2-3 aggregate score. Yet, their spirit remained unbroken as they carried the fire of ambition into the second leg.
The first leg had seen Midtylland secure a 2-0 triumph, placing them in a favorable position. However, Niedercon emerged as fierce competitors on the 3rd of August, clinching the initial 90 minutes with a commanding 2-0 scoreline. The aggregate was leveled at 2-2, forcing the match into extra time—a testament to the exhilarating twists and turns that football often brings.
Amidst the suspense, Zambian International Chilufya emerged as the beacon of hope for Midtylland. Introduced into the match at the onset of extra time, he seized the opportunity with unwavering determination. A mere 12 minutes into extra time, Chilufya showcased his prowess by finding the back of the net—a goal that resonated like a thunderclap of triumph.
This goal not only sent reverberations through the stadium but also etched an indelible moment in Midtylland's journey. With Chilufya's strike, Midtylland secured their passage to the next round of the Europa Conference League Qualifiers, marking a testament to teamwork, resilience, and the transformative power of a single moment in football.
Chilufya's heroics remind us that football is a canvas for dreams to unfold, for underdogs to rise, and for the undeniable spirit of the game to shine. As Midtylland celebrates their hard-earned victory, Chilufya stands tall as the embodiment of their relentless pursuit of success. The echoes of his goal will resonate through time, serving as an inspiration for both current and aspiring players alike.