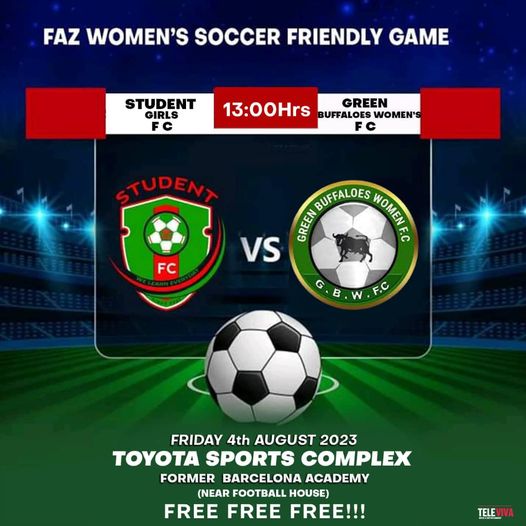 Green Buffaloes Set to Face Student Girls in Pre-Season Showdown at Toyota
Lusaka's Toyota Sports Complex is set to witness an exciting clash as Zambian champions Green Buffaloes Women Football Club take on Student Girls FC in a pre-season friendly. The match promises an afternoon of riveting football action, with kick-off scheduled for 13:00.
Green Buffaloes, a formidable force in Zambian women's football, will utilize this match as a crucial part of their preparations for the upcoming 2023 COSAFA Women's Champions League. As reigning champions of the tournament, Buffaloes are undoubtedly aiming to defend their title with passion and determination.
On the other side of the field, Student Girls FC will be looking to make their presence felt as they gear up for the new season in the provincial league. This pre-season friendly provides an excellent opportunity for them to fine-tune their skills, build team cohesion, and showcase their potential.
The COSAFA Women's Champions League, aside from being a prestigious tournament in its own right, holds the key to another opportunity. It serves as a qualifying pathway to the CAF Women's Champions League, which adds an extra layer of significance to Green Buffaloes' preparations.
The upcoming match at Toyota Sports Complex not only promises a display of talent and determination but also embodies the spirit of women's football in Zambia. It's a testament to the dedication and hard work that these teams invest in their pursuit of excellence.
As the whistle blows and the match unfolds, fans and enthusiasts can expect an exhibition of skill, strategy, and sportsmanship. Green Buffaloes' pursuit of their COSAFA Women's Champions League title defense and Student Girls' ambitions in the provincial league create an electric atmosphere of competition and camaraderie.
The pre-season friendly not only sets the stage for future victories but also resonates with the growing prominence of women's football in Zambia and the continent at large. With each pass, tackle, and goal, these teams contribute to the legacy of women's football and inspire countless young players dreaming of making their mark on the beautiful game.